Skip to Content
Business Law Expert
When it comes to property purchases and business acquisitions in New Jersey, it's always important to know the legal ramifications and tax liability of every move you make. What may seem like a wise investment today may put you at a disadvantage in a year's time. Similarly, without the best negotiating possible, you may miss out on a fantastic opportunity to grow your business. In our blog, you'll read about some great strategies, planning, and tips to help grow your business and secure your company's future. If you need further legal advice feel free to reach out to us, the knowledgeable team at Louis N. Magazzu Law. We're Vineland, NJ's, trusted business law experts and we'll be happy to answer your questions.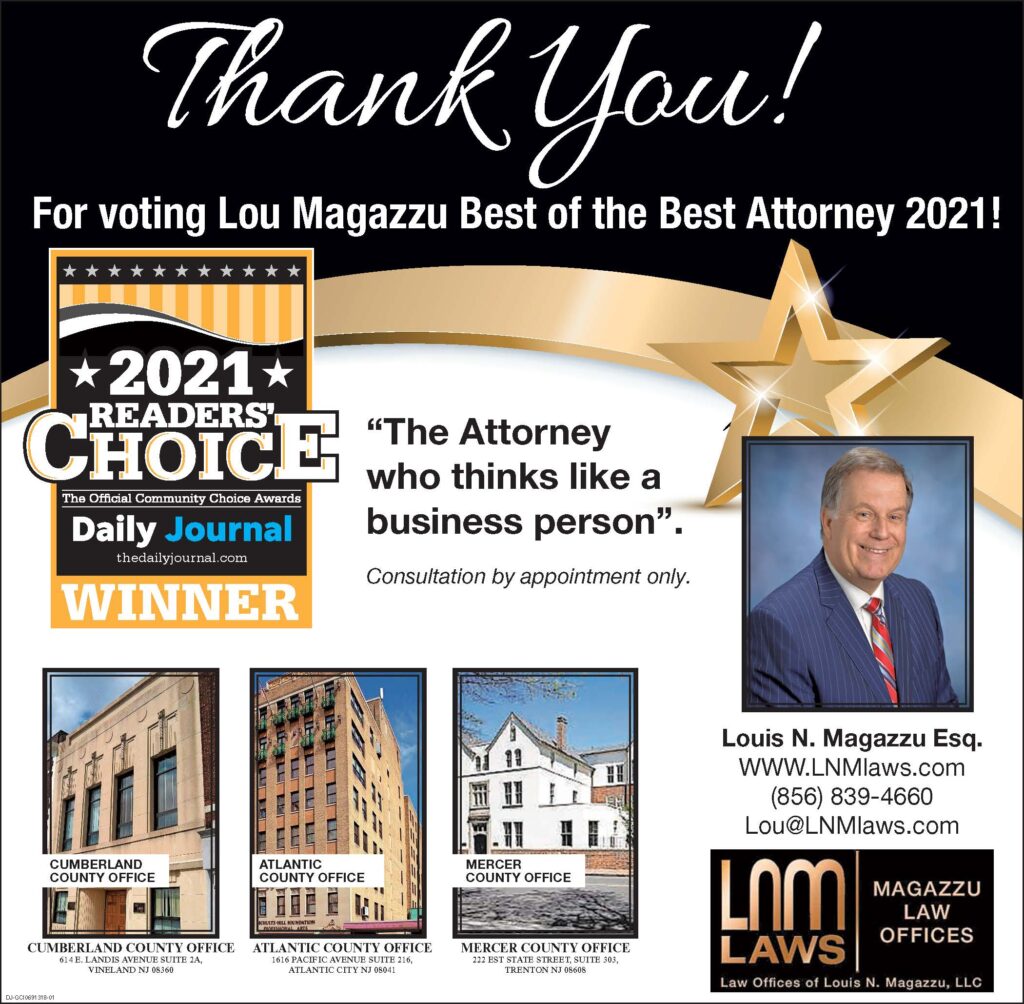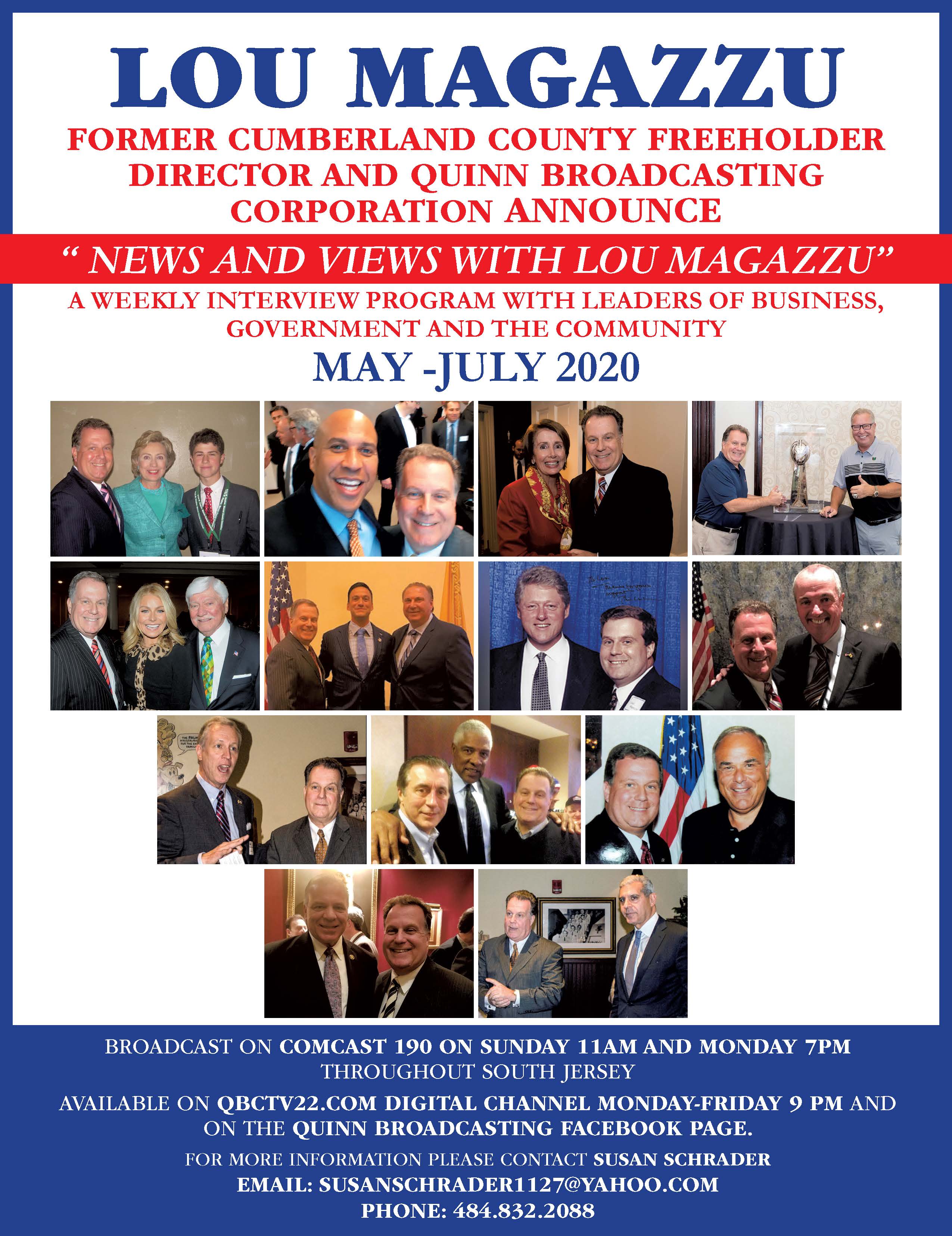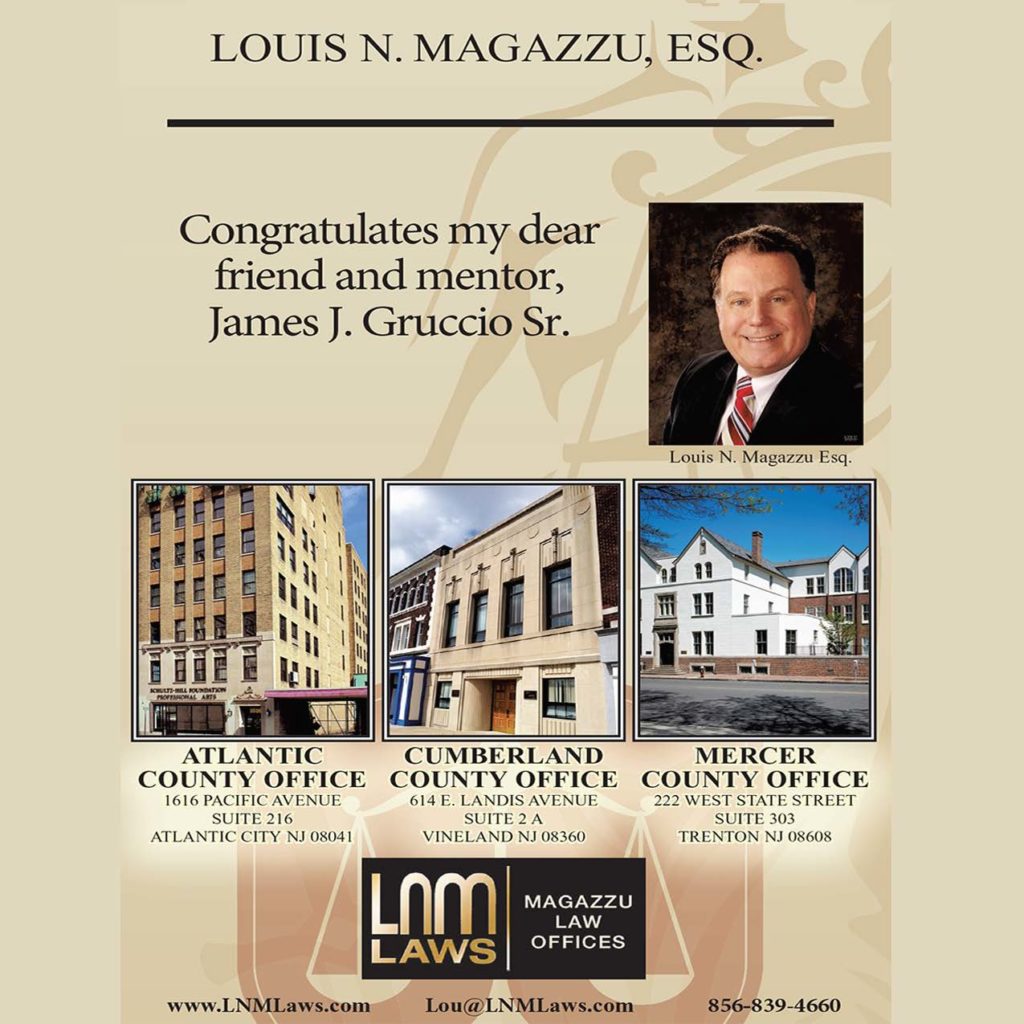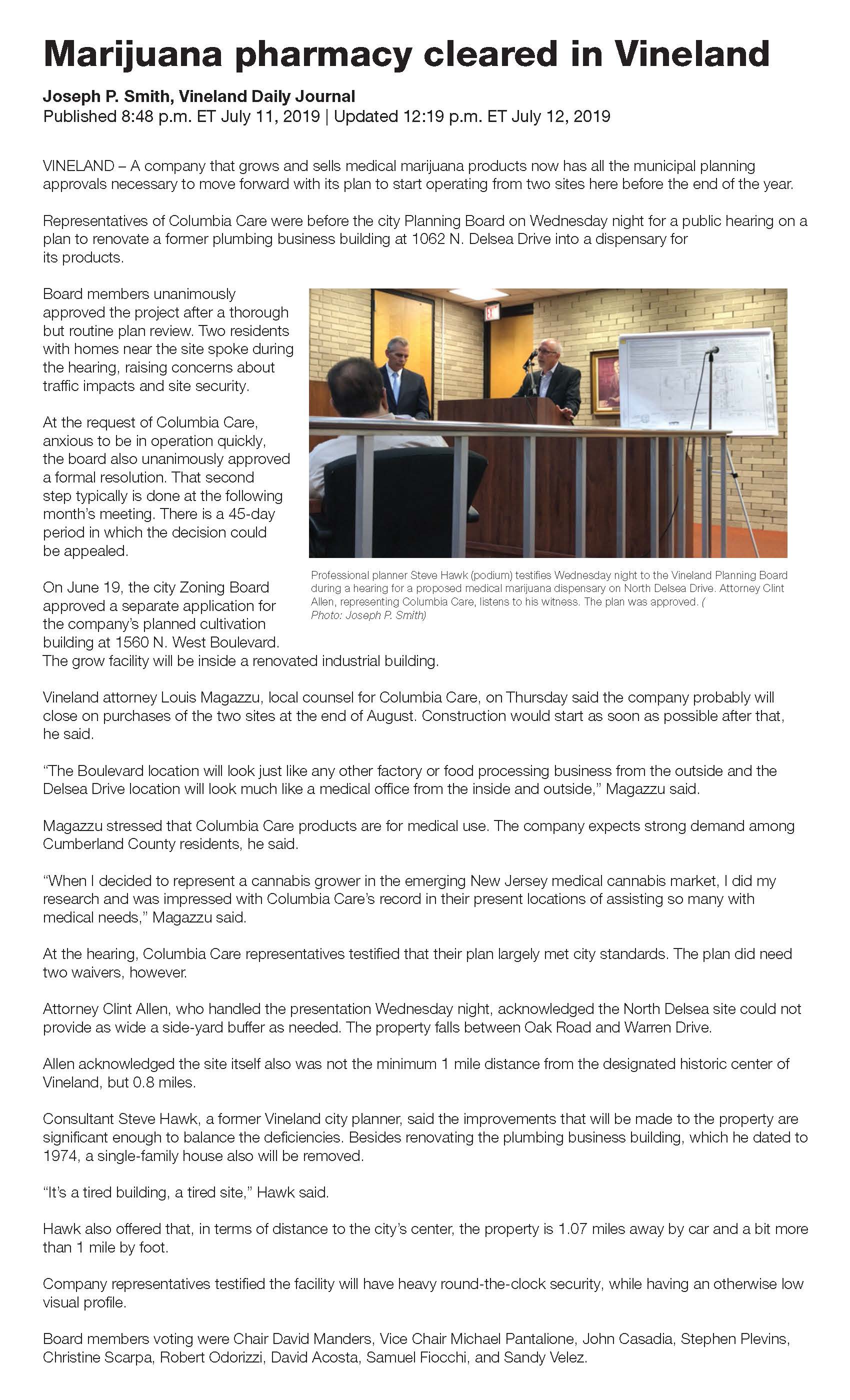 LOUIS N. MAGAZZU
ATTORNEY AT LAW
Atlantic County Office
1616 Pacific Avenue, Suite 216
Atlantic City NJ, 08041
Cumberland County Office
614 E. Landis Ave, Suite 2A
Vineland, NJ 08360
Mercer County Office
222 West State Street,
Trenton, NJ 08608
(P) 856-839-4660 (F) 856-839-2892/ Email Lou@LNMlaws.com.
Mr. Magazzu maintains a general practice of law with offices in Vineland, Atlantic City, and Trenton, New Jersey.   Since 2014, Mr. Magazzu has also has served as the Executive Director of the CEO Group an organization of over forty-five of the largest employers located in Cumberland County New Jersey.
In addition to being the Executive Director of the CEO Group, Lou Magazzu has been involved in transactions valued in excess of four billion dollars; with a special emphasis on complicated and sophisticated real estate transactions and approvals.
Mr. Magazzu served as local counsel for a company awarded one of the six medical cannabis licenses in 2018-2019 for the round two applications in New Jersey and in that capacity was intimately involved with the site selection and approval process, the related zoning and planning issues and the closing of both the dispensary and cultivation locations. He also represented another company in the round three application process until the company withdrew its interest to concentrate on other jurisdictions.
Mr. Magazzu recently closed a transaction for a large international food processor that will construct a 700,000 plus square foot facility in Vineland New Jersey, making that location the North American headquarters for the company. In that representation, Mr. Magazzu represented the client before the Vineland Planning Board and also worked with representatives of the city, county, and state governments on complicated environmental issues.
Mr. Magazzu also recently represented a different food processing company for its planned 65,000 square foot facility to be located in Millville, New Jersey,
Mr.  Magazzu previously served as the City Solicitor for Vineland, New Jersey. He was one of the first lawyers in the state to combine the payment in lieu of taxes (PILOT) and Urban Enterprise Zone (UEZ) loan programs to allow for low-interest municipal loans to be repaid using a portion of the property tax dollars realized from new projects financed by the loans. He also developed the legal framework for the  (UEZ) second-generation loan fund which has become a model for similar programs throughout the state.
As City Solicitor, Mr. Magazzu was also the Director of Law for the City of in excess of 55,000 residents.  As the Director of Law, Mr. Magazzu supervised a staff of 6 part-time attorneys and had oversight of hundreds of files. This responsibility included defending tort claims; USCA Section 1983 claims and various contract matters and tax appeals.  Mr. Magazzu was personally responsible for the cases in which the City of Vineland had the greatest exposure. During his four-year term, there were no adverse verdicts against the City of Vineland, and no claim was ever settled for over $100,000 and those which were settled were typically for the cost of a vigorous defense.
Mr. Magazzu has also served as a municipal attorney for many other municipalities, as well as counsel to zoning and planning boards, and assisted in the drafting and revising of municipal master plans. Mr. Magazzu has also served as part of underwriting or bond counsel teams for projects with a total value in excess of one billion dollars.
Mr. Magazzu also served as New Jersey counsel in sophisticated product liability litigation for several national companies. In that capacity, he was involved in every aspect of the client's defense including discovery, motion, and trial practice including both jury and bench trials. Mr. Magazzu also represented numerous insurance companies defending the interests of the insured in auto liability and other types of negligence cases.
Mr. Magazzu served as a member of the Board of Directors and Secretary to a corporation traded on the American Stock Exchange. He also served as counsel for national and local businesses that provide affordably and assisted living housing and in that capacity was involved in all aspects of the transactions including land acquisition, zoning approvals, financing, and lease-back arrangements.
Mr. Magazzu served as a member of the Cumberland County Board of Chosen Freeholders, from 1998 until 2011. He served as Director of the Board in 2001 and again for three years from 2008 until 2010. From 2001 -2010, he was Chairman of the County Finance committee, which had direct and indirect oversight of annual budgets of nearly $200 million from 2001-2010. Mr. Magazzu served as a liaison to every significant county board and commission during his time as a Freeholder. Mr. Magazzu worked with the county college on a $44 million expansion of the campus which was funded in half by the State of New Jersey as well as a scholarship program that offers a free two years associates' education for every high school graduate.
As a Freeholder, Mr. Magazzu led the effort of Cumberland County to obtain Federal Empowerment Zone status resulting in $230 million in loans and tax credits for county businesses. He was unanimously named the first Chairman of the Cumberland County Empowerment Zone Development Corporation by a bi-partisan committee of Freeholders and Mayors. As a result of the Empowerment Zone and county job training programs, county unemployment was reduced by thirty percent, and families on public assistance were reduced by half. Mr. Magazzu also was part of the leadership team which worked with a developer to build a $50 million motorsports park in the county.
In 2007 he served as the President of the New Jersey Association of Counties, an organization that is a state-wide advocate for all of the twenty-one counties in New Jersey. He was awarded the "County Leadership Award" from the New Jersey Conference of Mayors in 2002. Mr. Magazzu was named one of the "100 New Democrats " by the Democratic Leadership Council in 2003. Mr. Magazzu also served on the Board of Directors of the National Association of Counties (NACO) from 2008-2011. NACO represents 3000 counties nationally. In 2011, Mr. Magazzu also served as Chairman of the National Democratic County Officials, succeeding Senator Chris Coons from Delaware. Mr. Magazzu has received the top leadership award from the New Jersey Association of Counties and the Southern New Jersey Freeholders Association. Mr. Magazzu has been an advisor to Governors, Senators, Congressmen, state, local, and county elected and appointed officials. In 2019, Mr. Magazzu was honored by the Vineland, New Jersey NAACP for his work in the business and political arenas.
Honors and Awards
Clinton-Gore Delegate to Democratic National Committee, 1996
Recipient, County Leadership Award, New Jersey Conference of Mayors, 2002
Named one of "100 New Democrats to Watch" by the Democratic Leadership Council, 2003
New Jersey Association of Counties President's Award, 2009
Southern New Jersey Freeholders Association, Southern Star Award, 2010
Southern New Jersey Business Magazine, Impact Award, 2010
Vineland NJ Chapter of NAACP; "Business and Political "Award, 2019
Voted "Best Attorney 2021"  by the readers of The Daily Journal 2021
Top 100 INSIDERNJ Cannabis Power List 2021
Significant Memberships and Affiliations
Chairman, National Democratic County Officials, 2011
Member, Board of Directors, National Association of Counties, 2008-2011
Member, South Jersey Economic Development District, 2001-2008; Sec-Treasurer, 2008-2011
Member, South Jersey Transportation Organization, 2001-2008; Sec –Treasurer 2008-2011
Member, Cumberland County Board of Chosen Freeholders, 1998-2011; Director 2001, 2008-2010
President of the New Jersey Association of Counties, 2007
Chairman, Cumberland County Democratic Organization, 2001-2010
Chairman, Vineland Democratic Party, 1992-1996
Member, Cumberland County Empowerment Zone Development Corporation; Chairman 1999-2001
Member, New Jersey Institute of Municipal Lawyers
City Solicitor, Vineland, N.J., 1992–1996 and special counsel for the following communities; Atlantic City, Bridgeton, Buena Borough, Buena Vista Township, Fairfield Township

Education
J.D., Villanova University School of Law, 1982
B.A., University of Maryland, 1979
Vineland High School, 1975