Skip to Content
Quality Corporate Law and Project
Oversight in Vineland, NJ
When it comes to entrusting your business to a corporate law legal expert, your counsel's experience is critical to your success. Lou Magazzu has over 40 years of experience serving as a trial lawyer, government attorney, and county elected official. Whether working as a private attorney or serving as a county Freeholder, Lou and has overseen $2 billion in economic development projects.
Lou's philosophy is that you deserve his utmost attention and concentrated efforts. To achieve that end, Lou only takes a few clients at a time to provide "laser-like focus" on the file. Lou spends the time to get to know you, your needs, and your plans for the future of your business. Lou will provide necessary legal guidance, oversee any acquisition or contract negotiation, and ensure that your legal needs are met. When you want effective legal representation, we respectfully request that you will consider Louis N. Magazzu.
Click here to learn more about a recent project Louis N Magazzu Law worked on.
A fixture in South Jersey politics, Lou Magazzu, through his Vineland-based firm Law Offices of Louis N. Magazzu, has become one of the biggest players in the state's cannabis space. A former Cumberland County commissioner, Magazzu has leveraged his connections and knowledge of South Jersey land space and use to successfully represent large and small cannabis operators , tirelessly canvassing the state to draw attention the the region. That he's been an ardent advocate of offering free expungement services and knowledge-sharing has raised his profile even more.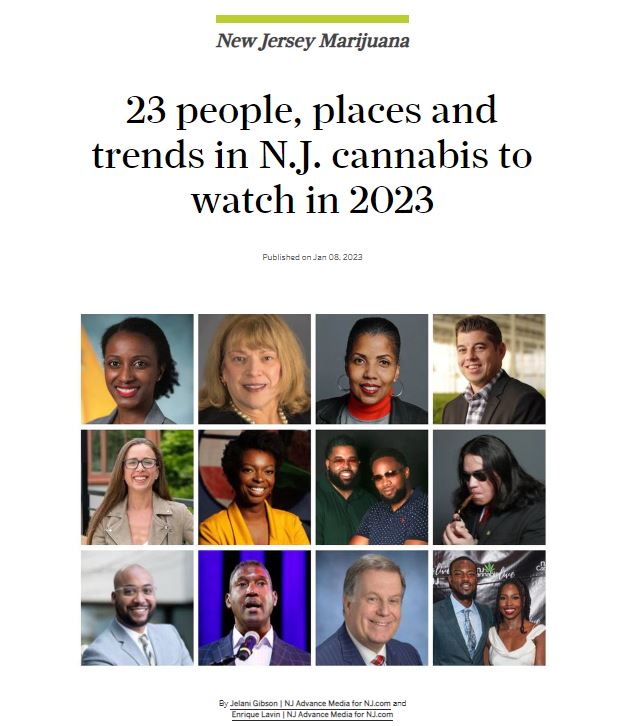 https://www.nj.com/marijuana/2023/01/23-people-places-and-trends-in-nj-cannabis-to-watch-in-2023.html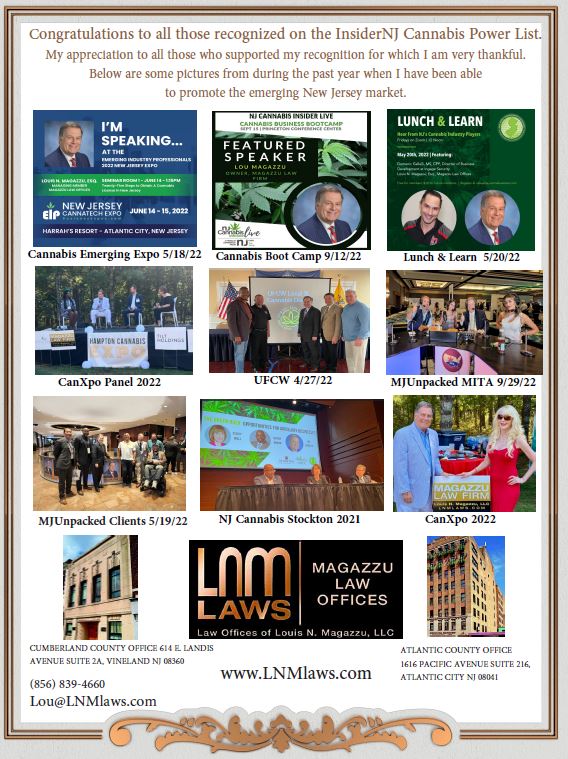 April 2022 : A recent great example where organized labor and the business community can work together. The CannaBusiness Association, which is the chamber of commerce for the emerging cannabis industry in NJ and the UFCW hosted an informative educational event for businesses in the area. I enjoyed the evening with Ed DeVeaux, President of Cannabusiness, Hugh Giordano of UFCW 360, Director of Organizing, my friend of nearly 30 years, Charles Wowkanech, President of the NJ AFL-CIO and Sam Ferraino, President of UFCW Local 360, who I have known from the days when we were both young leaders in the Democratic Party in south jersey. A great job by CannaBusiness and the UFCW.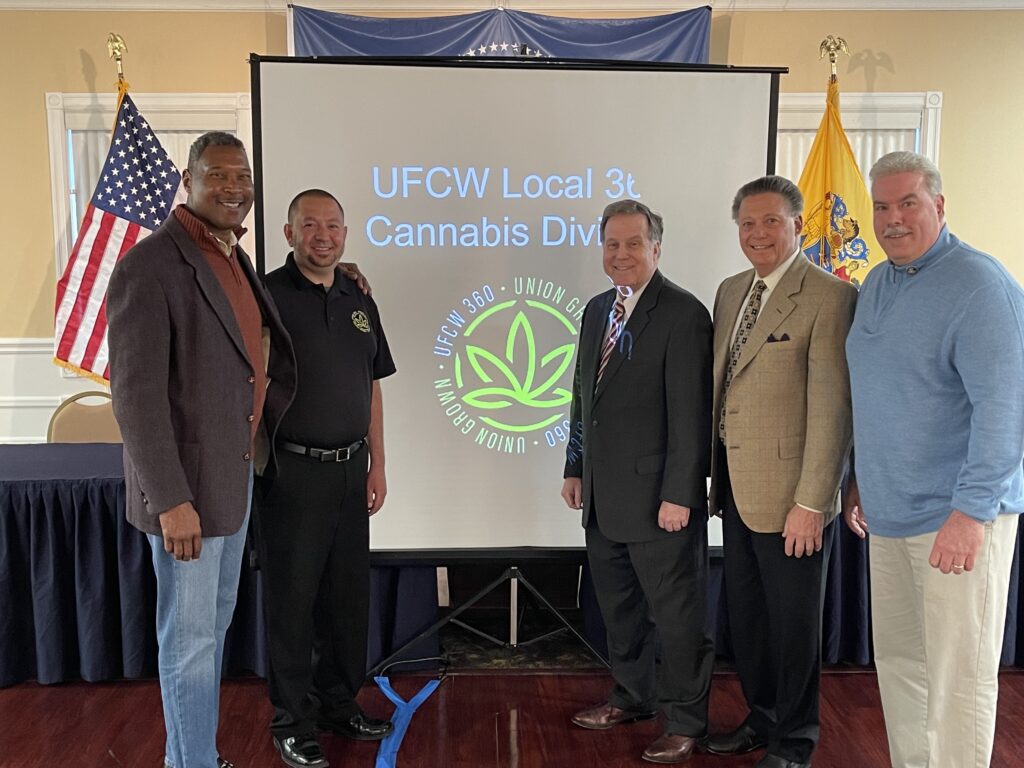 City told surging demand for warehousing offers future for old glass factory complex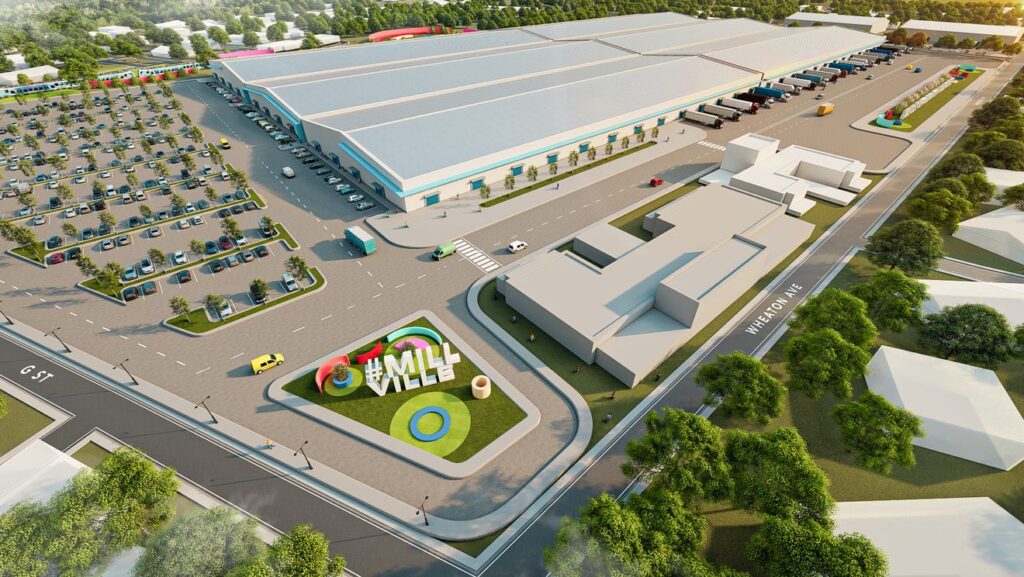 Artist rendering of the proposed Millville refrigeration warehouse project at 200 G Street and Wheaton Ave. Millville NJ, March 5, 2022.
Submitted Anthony DeSantis
Read story:
https://www.thedailyjournal.com/story/news/2022/03/07/refrigeration-warehouse-plan-wheaton-glass-company-g-street-avenue-city-commission/9381646002/
So thankful to be invited to speak with great colleagues in conjunction with  Stockton University, New Jersey Cannabis Business Association and NJ.com at their Cannabis Career Fair and Business Expo. Nov. 2021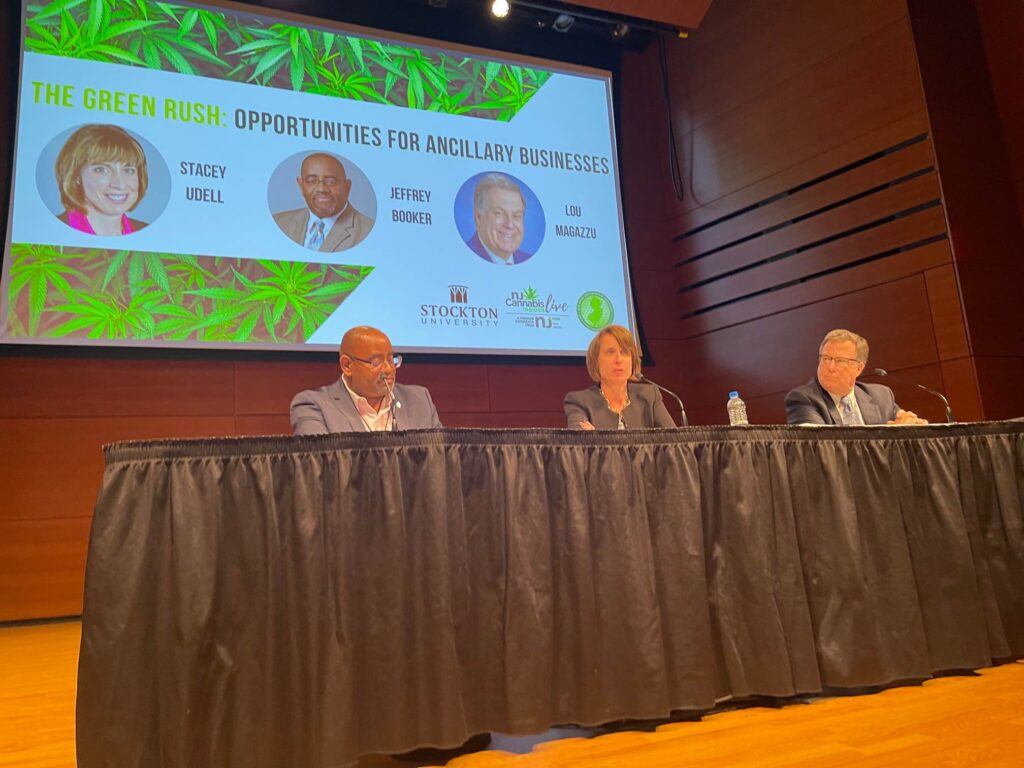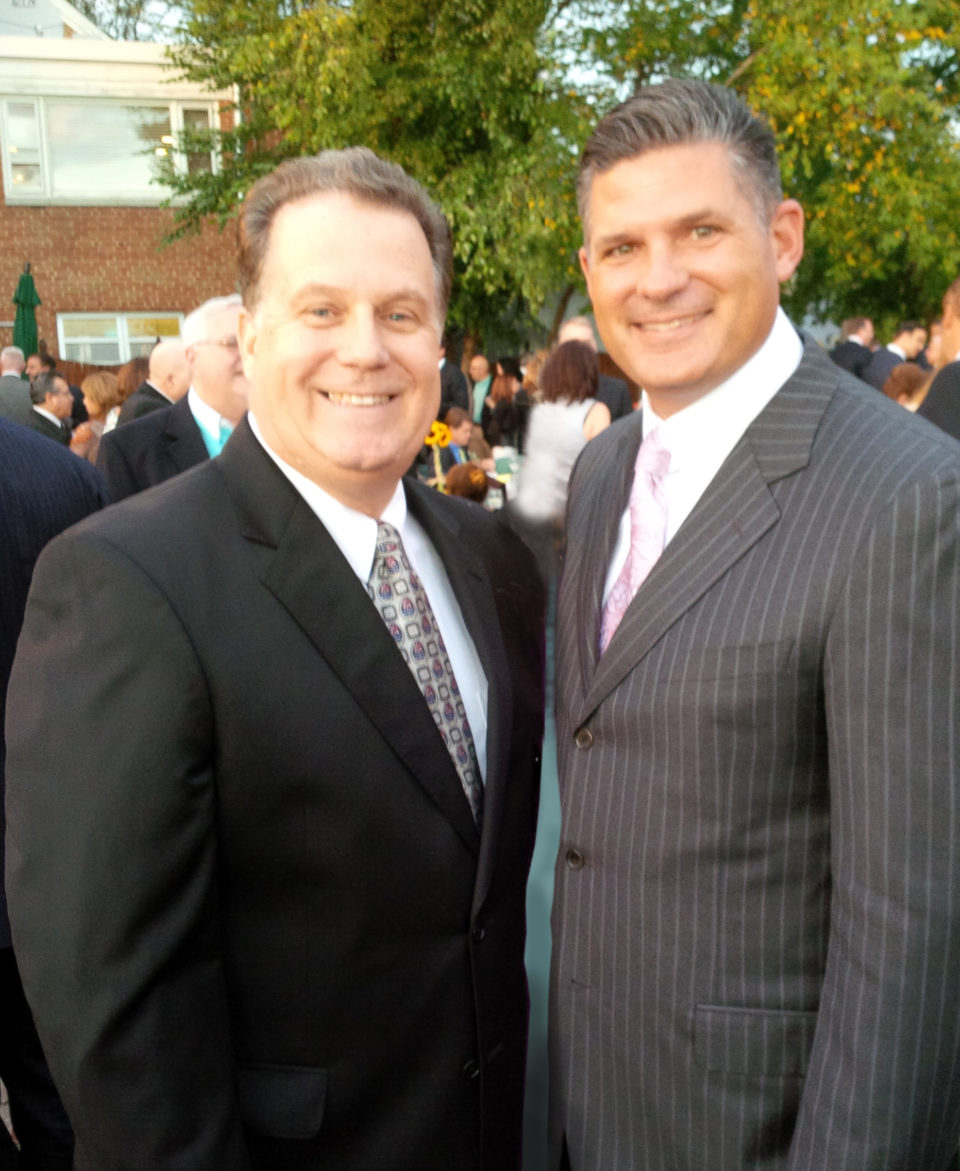 A voice for county businesses
In addition to serving as a private attorney for some of the area most prominent businesses, Mr. Magazzu is the Executive Director of the CEO Group. Founded in 1996, this association is comprised of the top 50 businesses in Cumberland County representing over 30,000 employees. The purpose of the CEO Group is to be the voice of these businesses in the county, state, and nation. The CEO Group also supports county priorities such as the county college and vocational school through various scholarships. Mr. Magazzu has a passion for local business advocacy and has helped countless clients with their project design and acquisitions, land purchase agreements, zoning and planning matters, local and state tax credits and much more related issues. He and his team of legal experts will work with you to pinpoint your needs, attain your business goals, and provide premiere legal representation.
Photo: Lou and Majority Leader Louis Greenwald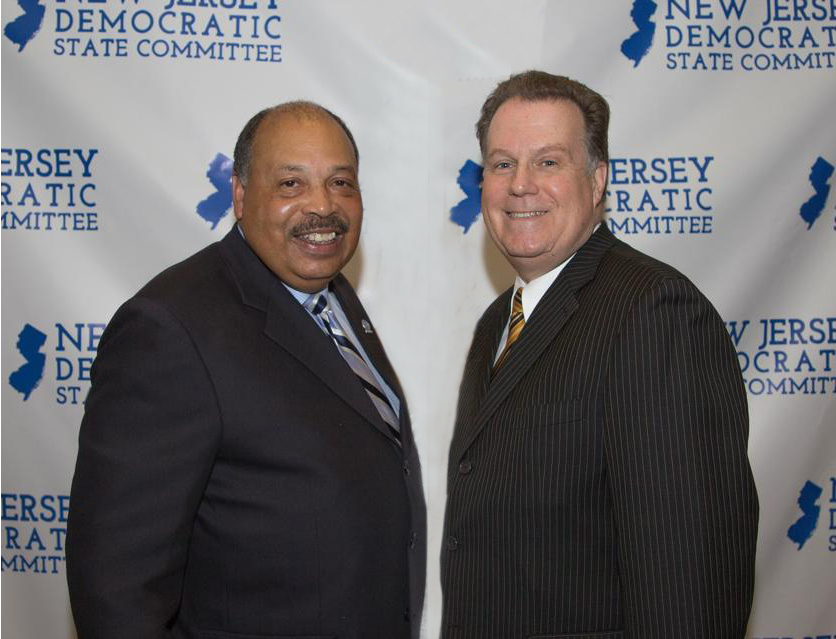 Expert budget oversight
Project costs can skyrocket when expanding your business but with our professional legal oversight, you can rest easy. From 1998 until 2011, Mr. Magazzu served as director of the board in 2001 and again for three years from 2008 until 2010, he had direct and indirect oversight of annual budgets of nearly $200 million. Mr. Magazzu also served as a liaison to every significant county board and commission during his time, and worked with the county college on a $44 million expansion. When you need effective budgetary oversight for your project, call Lou Magazzu . We have an eye for detail and years of experience, and we'll ensure your project moves forward as planned. Give your project the oversight it needs and yourself some peace of mind. Contact us today.
Photo: Democratic Chariman John Currie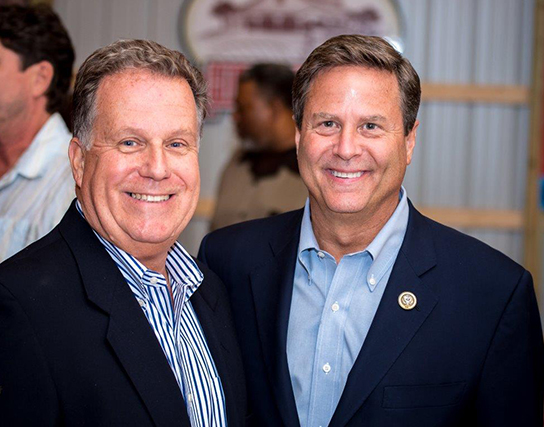 Analysis of Impact and Consequences of Laws and Regulations and Provide Advocacy for Businesses with such Laws and Regulations.
Photo: Lou and Congressman Donald Norcross